At Riverside Management, we believe that participating, supporting, and being a part of the local community is critical.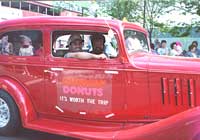 (Duke and Arthur in Antique Automobile in Cambridge, MA parade. (circa 1985))
Throughout the years our company has contributed many activities to the Dunkin Donuts brand name to better serve our customers. Whether it be by testing a new POS Computer System, supporting the local Boys and Girls club, Sponsoring Antique Automobiles, or constructing a non-traditional prototype café style Dunkin Donuts in Harvard Square .